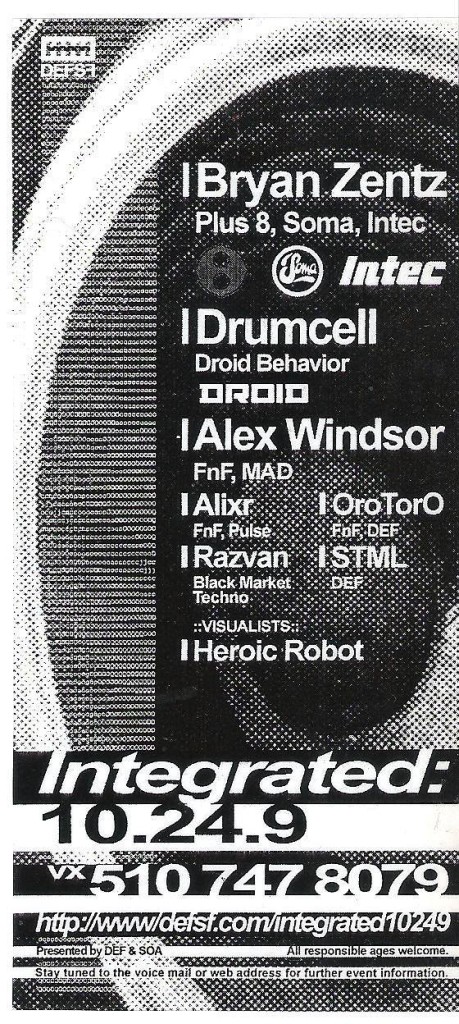 `;) event info updated night of. please try to get your presales early (currently available @tweekin records in the lower haight, SF) to avoid any extra hassles at the map point.  the party will be available on netcast. we invite you to please tune in if you are unable to attend.
see y'all there. `;)
Line-up /
Bryan Zentz, Drumcell , Alex Windsor, Alixr, Orotoro, Razvan, STML
Promoter /
DEFSF /SOA
Date: Saturday, October 24, 2009 9:30pm
Performers: Bryan Zentz, Drumcell, Alex Windsor, Alixr, OroTorO, Razvan, STML, Heroic Robot
City: Underground
Venue: TBA
DEFSF & The SOA crew bring you
]]INTEGRATED[[
510.747.8079
Cost: $10 Greenbacks
Its been more than 5 years since DEFSF has held a true west coast techno event. This time DEF is back on a mission with the SOA crew and a sick line up of trueschool techno heads from the Bay, Portland and LA.
with djs:::
Bryan Zentz )Plus 8 Records| Soma| Intec(
Drumcell )Droid Behavior(
Alex Windsor )FNF(
Alixr )FNF | Pulse(
Orotoro )FNF | DEF(
Clairity )http://djclairity.com/(
STML )DEFSF(
the bios:::
Byran Zentz:
http://www.discogs.com/artist/Bryan+Zentz
http://www.youtube.com/watch?v=DpFrUXnYAWk
http://www.thedjlist.com/djs/BRYAN_ZENTZ/
What can you say, but the man is SICK! With releases on Hawtin/Acquaviva's Plus 8 label and Carl Cox's Intec label to his credit, Zentz has always showed a strength of versatility. From hard bangin progressive techno tracks to his more recent Minimal Techno and Dub Techno stylings, Bryan has always showed that he can hang with the best and come off with taste and style.
Drumcell:
Drumcell along with the Droid Behavior crew has been one of the leaders of the southern california techno scene for nearly a decade. His name is synonymous with techno and LA. We were fortunate to have the Droid crew up for our first fully West Coast Techno party, 'Robot Feelings' in 2003, and also for our West Coast Techno float in the first Stateside Love Parade held in San Francisco's china basin in 2004. We're pleased to welcome him back to continue rocking with DEFSF in his usual body punishing style. For those of you fortunate to have caught Drumcell kicking ass and taking names as a warm up to Speedy J at Kontrol last October, this set just may prove to show Drumcell's range as well as his usual fierce intensity.
Alex Windsor:
Alex is no stranger to DEFSF's Radio Integrated broadcasts, having appeared more than a few occasions, at the Blissfactory, and live at Faktion.. only cause we just love to hear him play. Why? Maybe its because every set he puts together just drips with class and he can rock a record progression like no other. Or maybe its for that continual, "Yes!" moment we all crave during a dj set that he continues to deliver upon time after time. Whatever the reason, we have always come to expect quality from Alex and this set should prove to be no exception.
Alixr:
One of the most savvy promoters and technically skilled DJs with the most heart and soul for the love of techno in the bay area. When you see Alixr out you know he will be bringing his 110% plus a work ethic to match his fierce devotion to his music.
OroTorO:
Andy Highland or Toro Toro/ orotoro, has been rocking all vinyl sets with a new intensity than most other djs have brought to the decks in years. Orotoro, will show you dub techno, abstract neo minimal, or just straight up jackin' 90's style techno tracks.. but above it all he will build a set mostly based on his confidence, strength and tenacity behind the decks.
Clairity: (updated)
http://soundcloud.com/clairity
Claire has a definite style that is cool, hypnotic and at times very heady. Track selections that make you think and others just to make you shake your ass. Her poise behind the decks is very masterful and graceful. Showing adept mixing skill ability while unfailingly and subliminally taking charge of your body and emotions on the floor. This set marks her first set upon returning from crushing sets in Belgium for over half a year. We are pleased and eager to welcome her back home to the bay area to continue rocking in her signature style.
STML:
Sean Allen aka STML/Short Term Memory Loss has often showed his encyclopedic knowledge of the insides and out of electronic music as a whole (sometimes even shocking me with the disconcerting knowledge that Boy George was quite an effective acid house producer at one point in the 80s) but it has always been with techno that STML has showed the most promise and skill. His track selection is deep, filled with caverns for your mind to wander and each track shows his true love and understanding for the music.
Visualistas:::
Heroic RoboT
This event will be an onslaught of wall to wall enveloping visuals headed by one of the more innovateve crews around, Heroic Robot. Heroic Robot have been making a name for themselves amid the psytrance and minimal techno community for a few years now. With a strength based on original abstract patterns and high power computing, They are by far one of the most original visuals crews you have ever seen.
This event will be at an intimate UG east bay location and will be broadcast live all night to the world at large via Radio Integated. from 9:30 pm -?am PST http://radio.defsf.com:1200/
Presale tickets available now at tweekin records in the lower haight, SF. (593 Haight St San Francisco, CA 94117-3406 (415) 626-6995) Stay tuned todefsf.com for ticket and flyer information regarding this event.http://www.defsf.com/integrated10249