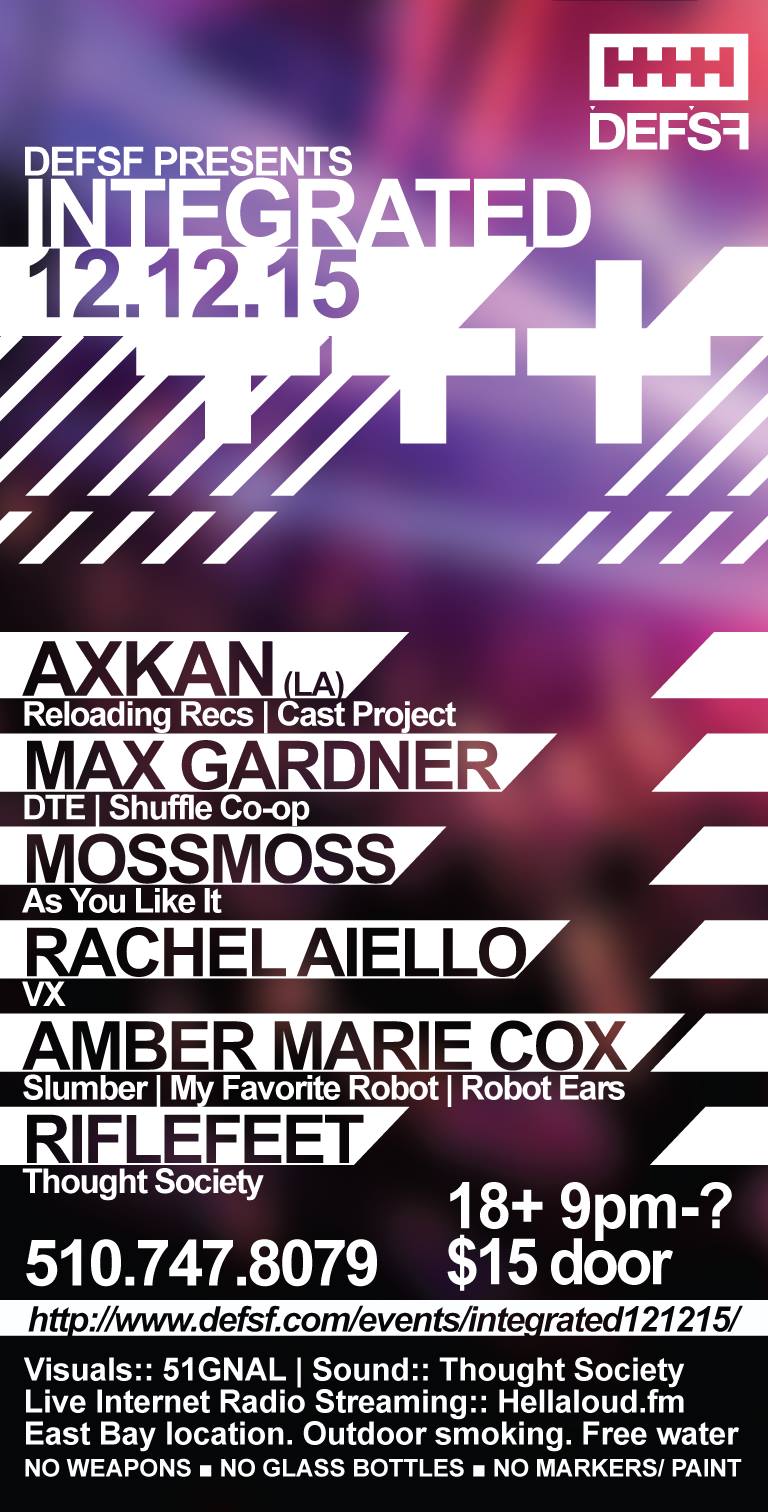 +++++++++++++++++++++++++++++++++++++++++
DEFSF is back deep underground with another forthcoming event featuring some of the best that West Coast techno has to offer..
This time we're going to bang out the corrugated steel with a live p.a. from a man from SoCal who is essentially blowing up at the moment with tours across the US, Axkan
12.12.15
Saturday December, 12th 2015
DEFSF presents
INTEGRATED:: feat. Axkan (LA)
510.747.8079
Line Up::::::::::::::::::::::::::::::::::::::::::::::::::::::::::::::::::::::
Axkan (LA)
Reloading Records | Cast Project
Max Gardner
DTE
Mossmoss
As You Like It
Rachel Aiello
VX
Amber Marie Cox
Slumber | My Favorite Robot | Robot Ears
Riflefeet
Thought Society
Visuals:: 51GNAL | Sound:: Thought Society | Live Internet Radio Streaming:: Hellaloud.fm
East Bay location. Outdoor smoking. Free water <3
NO WEAPONS –  NO GLASS BOTTLES –  NO MARKERS/ PAINT
$15 door. 18+ 9pm-?
Info: 510.747.8079
*updated notice..* the event is 18 and up but we will be checking ID at the door. Please have it handy. Also there is smoking outdoors but we want to keep the noise to a minimum for the neighborhood. Vapes encouraged if you have them.
Stay tuned to the Voicemail or this URL for updated information…
BIOS:::::::::::::::::::::::::::::::::::::::::::::::::::::::::::::::::::::::::
Axkan
Axkan, Federico Sanchez, without question has to be one of the most brilliant rapid rising stars on the West Coast techno scene and everyone is just starting catch on. His live sets are perking up ears from all over the country, devastating dancefloors from Detroit, Chicago, Minneapolis, Los Angeles, and now of course, the SF Bay Area. There are people who make techno, and play techno live, that's ok, but there are few masters of their machines who know how to put them to effective use when in front of an audience and that's where Axkan shines.. we're looking at having Axkan deliver a body punishing live p.a. set that will be one for the books.
Max Gardner
Max always rocks the house. For those who've never heard Max Gardner's sets you might be missing out on one of the best techno DJs to have stepped behind the decks in the SF scene in recent years. His mixes and track selection is flawless. His musical knowledge and taste are on point, and he always delivers the right tracks at the right time to make dancers sweat. Max's sets are killer, every time, expect no less from him this round.
Mossmoss
Mattie Bowen, Mossmoss, can usually be heard opening up for any international headliner at the As You Like It parties.. but when given a chance to rinse out some peak hour tracks, Mattie will take you to places in a set where you've not thought possible. You see, Mossmoss is one of those DJs that's completely original, has interesting tastes, always has the freshest tracks, and makes layered mixes that are wholly unique. We're super thrilled to have Mattie smash the post peak slot and take you into the depths of his mind in the late night hours.
Rachel Aiello
Rachel Aiello has poise, a cool demeanor behind the decks, and a sinister track selection to match. Her tastes verge onto darker ambient, tasteful EBM techno, to stronger and more stern techno that retains an easy danceable edge. She'll be setting the mood for the floor and the sets that follow.
Amber Marie Cox
Amber is one half of the group Slumber with Oona Dahl. Â  Amber and Slumber's sets provide this hypnotic, deep groove based on deep house, melodic techno, minimal that is infectious,  soulful, otherworldly, and guaranteed to make your body move. Amber will be breaking the seal on the night, bringing deep sounds, welcoming underground revelers while building up steam as the night commences. Get there early, Amber's set is not a one to be slept on.
Riflefeet
Matt Ripley, Wanderlust/ Riflefeet's mind is just different. Having a training in classical music and non western traditions, Ripley will try to throw the unconventional curve ball at you and you're going to have to swing.. usually this leads to really out there pounding techno and twisted bass music. They say people are lost and found at 4am.. Riflefeet's going to take you there and back in style and keep going until we're booted out of the space (whenever that is).