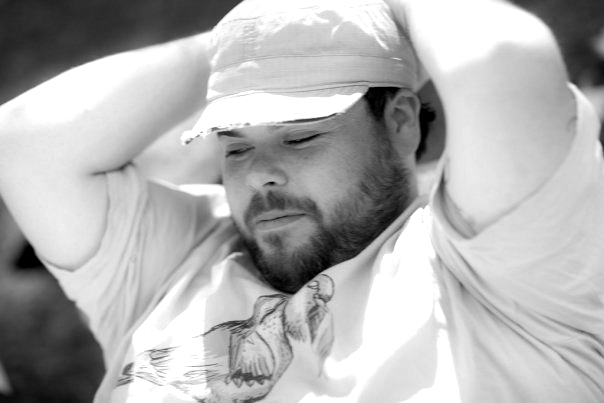 ASR is one of the major outfits responsible for shaping the SF techno scene. Founded by scene patron and impresario Jeremy Bispo, Â ASR Continues to carve out a path for the future of techno-house in SF. DEF took some time to interview Jeremy, one of the scene's most astute observers, to get his thoughts on the state of the SF techno-house scene, the origins of ASR and where the scene may be heading in the next few years.
DEFSF: What is ASR and what do the letters stand for?
Jeremy Bispo: The acronym ASR has represented two things over the years. It's been years, maybe since 2000, since it's held the original meanings. Since 2000, I'd say, As You Like It, has been more symbolic to represents what we produce, and ASR has been a larger extended family of friends that grew out of warehouse parties in the 90s.
Originally ASR was a humorous nickname given to me and my friends several members of Cloudfactory, a slightly older collective, also then based on the Monterey Peninsula. We were the "Alvarado Street Ravers," named after the main strip my friends hung out on downtown Monterey. Several of our friends lived just up the street and many would make the walk down for coffee at Plumes and burritos at Papa Chanos. I thought the nickname was hilarious, probably because I wasn't down on Alvarado Street much, since I had a job in Pacific Grove. We took it and ran with it, but a few of us grew sensitive to the origins, so I, along with my friend Rose changed it's meaning to "Always Something to Remember."
How did ASR get formed? I heard it was just a crew of ravers in the beginning, but what changed? How did you go from just going to parties to wanting to throw parties?
ASR was originally formed in the summer of 1997 by a group of friends that lived on the Monterey Peninsula. I was a year out of high school and still living in Pacific Grove. But we had members living in Carmel, Monterey, Seaside, Salinas and as far away as Santa Cruz. We'd grew tired of the weekly jaunts to San Francisco and Oakland for warehouse parties and wanted to start producing events that would bring our friends from the Bay Area down to the Peninsula.
I attended my first party New Years Eve 96/97 and quickly started attending parties every weekend. Cloudfactory had been throwing parties on the Peninsula for a few years already and they were a big influence on me and the rest of our friends. I think it was only a few month in and I started helping out at Cloudfactory or friends of Cloudfactory parties. It was almost immediately after that that I decided to do my own events and started asking my friends if they were into the idea. We did the first ASR event September 20th, 1997, just over nine months since my first party.
There was a big group of us that worked hard on that event, but even at the beginning I was leading the charge. I'd been working on and producing events since my sophomore year of high school. It was an easy transition for me.
What  was it about the Cloudfactory parties that were particularly inspirational? Do you see echoes of that inspiration for what you do now as a promoter?
In my eyes, Cloudfactory was always the roots of the scene I was involved in. Most of the core members grew up on the Monterey Peninsula and  that made them accessible. They weren't some far away (San Francisco was 2.5 hours away) crew that produced ten thousand person massives. They worked together to produce the lowest cost events, with the talent coming from within, for some of my best memories ever.
My parties have always been different. I did my best to produce events that were as low cost as possible, and ASR did throw free day parties for several years, but we've always been about bringing together talent from all over the Bay Area and world. For our second party, we booked DRC, who at the time was one of the biggest rave djs nationwide. It's always been important to me to share acclaimed djs with an intimate audience. My drive with ASR has, for me, gone the next step with As You Like It. I want to produce the best events possible, with the best talent accessible, in venues that allow us to really feel the experience. That's my goal right now. This has pushed up ticket prices, but luckily there's an audience right now in SF that's getting what I'm trying to do.
I'm assuming most people think you've come out of left field and started throwing parties but truth be told, you have been at this for awhile right?
I'm not sure how many people think I came from left field. I've spent a lot of time over the last year since I started going to techno and house shows in SF telling my story. Who I am, where I'm from, what my origins in the scene are. Like I said earlier, I've been involved in the electronic dance music scene since 1997 and producing events almost as long. I took several years off when I moved to Minneapolis to attend college from 2005/08.
I guess what I was getting at was that the SF scene tends to take on newcomers from all over the country on a consistent basis. From some people's perspective your recent return in '08/'09 has made it seem like you came out of nowhere to immediately augment the scene with a strong expertise in promoting… sort of filling in a much needed gap in the techno/house community. Do you think that your leaving SF and returning to it has made an impact on you and the way you identify with your current audience?
Well, leaving and coming back to the scene that [KONTROL], Dirtybird, Auralism built was an amazing experience. The audience was there. I just had to ease in and learn more about the make up, history and new artists. I won't pretend it was easy. But what those crews did was the real work.
Do you consider yourself a primarily techno event promoter? And why have you chosen it to be a predominant element in your parties?
I don't think I throw specifically techno events or that I really ever did. It's true ASR has thrown several with techno being the major influence in the night, but we've done just as many with house music being the source of inspiration. We did day parties in Fremont at Lake Elizabeth during the early to mid '00s that featured mostly housemusic.
Techno has almost from the beginning been a source of inspiration for me. Ernie Deaks, a local DJ who had gained some notice after moving to Portugal in the early 2000s, was a huge influence over my taste. Ernie in his prime matches up against any superstar DJ I've seen. Through Cloudfactory and Friends n' Family I was exposed to Andy W., Sho, Maya 13, Greg Sandler, Ethan Miller and with those DJs they brought me towards the more heady mixes that took skilled DJs to produce amazing sets. Lots of people can beat match, but through techno the great ones did a lot more than blend the records. That extra level of turntable skills was an important draw.
What kinds of skills do you come to expect from a DJ and what do you look for when you book your events? Is it more the DJ's skill, their ability to promote themselves, their established reputation, or a little bit of all of that?
I don't look at the ability to promote themselves at all. I can do all the promotion. Skill, sound, and following are all things that first pull me in. I go out quite a bit. I listen to the sets and the time slots they get booked for. It's quite often that I hear a DJ booked for the wrong time in the night or an artist that I feel is under appreciated by other promoters. We have a strong contingency of Midwesterners that bring a lot of different influences. We're lucky in SF that so many people move here from all over the world. We get to hear again the influences through these DJs and producers what they first heard in warehouses across the Midwest.
You have been traditionally known as an underground event promoter, why haven't you just gone into a club and taken over? Surely ASR has a bit of a following.
I'm only interested in producing intimate events. Most of the clubs in San Francisco do not allow for that opportunity. Recently I organized a going away party at my favorite club in San Francisco, 222 Hyde. At some point in the future I'd be interested in doing an event at 222, if the situation was right for me and the club owner. 222 is truly a special place, with the best club sound system in SF and the best intimate club environment for me and my friends.
What was the first "As you Like it?" Why specifically that name?
The first "As You Like It" was in December 2000, with DJ Rush as our headliner. I always understood you needed to sprinkle the best of the Bay Area djs from collectives and production companies along with the out of town guests. That night Ethan Miller from Fn'F, Plateshifter from the Overworld, Andy W. from Viberation and Cloudfactory, and Elias Smith from Vehicle played.
This was my first all techno influenced event and was named after a Claude Young mixtape I bought in Los Angeles the previous summer. I'd found a DJ Rush mixtape at Trance n' Jungle Factory that blew my mind.
MP3s were starting to grow in popularity around that time and I tracked down as many DJ Rush sets as possible. His controlled chaos was something I'd never heard before. Rush jacked, but at the time I didn't even know what jackin' was. Jackin' is a unique trait to music that can be found in both Chicago house and techno producers.
The reason we named the party "As You Like It" was mostly ego and secondly to push us in our production. If we were going to tell the audience we knew how they liked it, we better come correct and produce it how they like it. I was growing confident in my line-up, organizational and promotion skills, but really I also knew I had a team around me that was damn good at what we did. We'd built something special and loved working together.
I was there at that first AYLI party, DJ Rush beat me to a pulp :)  Why have you chosen to largely represent the SF minimal tech-house scene rather than the harder techno you were largely known for in the past?
I grew out of the harder techno sounds in the mid-'00s. I still have an appreciation for some of the harder sounds, Marco Carola and Drumcell in particular both played excellent sets at the Movement Festival in Detroit this year. But the harder edges of techno don't drive me anymore. They can still be showcased, but under the right situation and not just because. Each artist I select plays a very important role both musically and for the direction I want to take my events. Some day, hopefully within the next year, I'd love to bring Drumcell back to the Bay Area. I think he's doing very important things right now.
What do you think is different about the people and ideas in the SF today scene as opposed to when you started throwing parties in the bay?
The people and the music matured. I walked into a scene that was built on a mutual love for techno, minimal and  deeper house. [KONTROL] and later Auralism played a huge role in building this scene. [KONTROL] by being at the forefront of new sounds and bringing the best DJs and artists to SF and Auralism by giving local artists a medium to release their creations.  The [KONTROL], Auralism and on a different tip, Dirty Bird Records deserve all the credit in the world in bringing techno and these styles of house into a more prominent role in San Francisco.
You can hear it in the sets by Galen and Solar, long some of the best house DJs in SF. Now you can hear a more techno influence in their sets and line-ups. The headliners at the coming Sunset Campout are Dan Curtin, Stacey Pullen and Konrad Black, all techno luminaries. Years ago the headliners would have been more house influenced.
There are still parties in the Bay Area that community is the biggest motivator. I'm not saying that the current techno scene isn't a community, because it clearly is, but a shared taste in music is what pulled us together. I still find community based events, my roots, to be very important to further expand and open ears to new sounds, but right now emerging sounds are my biggest influences.
Would you say on the whole, SF scene has become more tech-centric whereas in the past SF was primarily known as a house town? Or is it that we've come to a point where people are feeding off of each other more freely than they've done in the past?
I think the techno in SF that's exploded is another shade of house music. It's really not that far from the nights that were successful years ago thrown by Staple. Sure there is bigger "techno techno" scene, but that comes with finding the music through tech-house.
Tonight I saw Vessel, a club hardly known for real techno, go ape shit for Chris Liebing. It really was a great experience to see how far San Francisco has come since 2000 when I brought DJ Rush.
You have a really deep understanding of how the underground works in the bay area, in your opinion, what are the different factions of the bay area underground scene trying to coexist at this time?
I wouldn't call them factions. I think more than anything they're communities that have different influences, mostly social and varied tastes in music. It's still possible to bring many of them together through an understanding of what drives them to an event. One problem is that many events become too focused on sound, driving away another community. If you build a nights music around the best the Bay Area has to offer, you can see, like we did at our party last weekend, they'll all come out. It's a matter of pushing the preconceived boundaries that line-ups must include x,y, and z to be correct.
Before your moving to to 'Com#' to do regular ASR events, the first ASR gig you did after moving back from the midwest was at Otherworld. What was your feeling at the time and why did you choose to bring out Robert Hood to the Otherworld?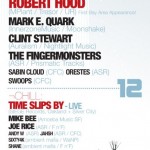 Robert Hood is known as the "Godfather of Minimal," and when I heard he'd never been to San Francisco, I was just flabbergasted. How could this be? How could someone who played such a major role in building creating the sounds that most influenced SF had never been here. The Otherworld is a very special place that has played a big role in my roots. The people that live, the sounds that have been played there, the memories I have because of those experiences. It was important to me to bring ASR back together for a family reunion and the Otherworld was the only place I considered doing it.
Who do you see in SF as really shaking things up and driving the direction of SF techno/ Tech-house?
JB: Right now, besides the obvious names surrounding [KONTROL], I'd say the name to watch out for is Christina Chatfield. That woman is going places. She has releases out on Klectik Records and more coming out for [Brian] Kage and [Luke] Hess' Beretta Grey. She's playing in Chicago next month, and both Detroit and New York in September. She's got a great sound and presence. I'm proud that she's committed to four As You Like It parties yearly. I wish we could have her at every event, but really, she's a live act and you can't expect that to be easy to create so quickly. Plus, she has a day job. I just hope she stays in San Francisco for years to come.
I totally agree Christina Chatfield really has the verve and also the hearts of the community at present. Do you think that is because she mostly plays live and why do you feel like it's important to represent live PA's at your events now as opposed to where that sort of thing has been mostly unheard of 5-10 years ago?
I think Christina really has a sound and energy that is perfect for San Francisco. Her tech-house connects really well with the house of yesteryear and the music that Pacific Sound has been pushing recently. She hit the nail on the head directly and the LIVE PA aspect is an added benefit.
LIVE sets have always been a part of the SF techno scene. Sutekh, Kit Clayton, Twerk and Safety Scissors all had live sets or live influenced sets. The problem with most live sets has always been how dance floor friendly they are. These sets are often more experimental and it's only recently that I'm hearing more dance floor friendly LIVE sets. San Francisco is lucky we have so many of them. Last January I threw an all LIVE party that featured Gold Code, Moniker, Jason Short, Mutor, Sutekh and Christina Chatfield.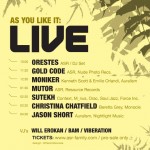 Where do you see the scene headed in the next few years?
Right now, house music and deeper shades of techno are the biggest influences. Where it's going, honestly, I don't know. I don't pretend to be a prognosticator or producer. I do my best to try to stay as far ahead along the curve as possible. But I learn things all the time from friends of mine about music and culture. I just hope to be involved and a player in what happens for years to come.
What's next For ASR? any further plans in the works? what's your next event?
ASR's last party is coming up in September. We'll be celebrating our 13 year anniversary with a two room event in the East Bay. You'll be hearing about it soon enough, but we're bringing Detroit legend Daniel Bell who was a big motivator in my re-immersion into the dance scene and DVS1 from Minneapolis is making his California debut, off Klockworks, Transmat and Timefog.
After the anniversary party, ASR is coming to an end. It was always a group of friends that loved producing events together. Right now it's just me left from the previous group and it feels strange using the name further. You'll see a change in our line-ups slightly and more drive toward different types of events. "As You Like It" (www.ayli-sf.com) will continue on and the company is in the process of being built now. I don't plan on only throwing parties with "As You Like It." It's going to be a top-to-bottom event production. Use my skill set for other types of events.
http://soundcloud.com/as-you-like-it