As one of the more understated heads in the LA techno scene..
Subversive
, Â 
Roque Hernandez
speaks with his records, with soulful and ill feelings and with a masterful and experienced hand behind the decks, which has been translating very beautifully into his recent
set of releases
for
VRV
. In an effort to delve a little deeper into  what goes on in the mind of Subversive, we tossed a few brief questions his way about his origins in the scene, his DJ mindset and why his future lays within producing…
---
So you've lived in Southern California all your life?
I have lived here all of my life with the exception of two years that I lived in France.
Word is that you've been a veteran DJ in the LA scene for a really really long time.. Is techno something you've always chosen to spin or has it become something that has been a greater focus over time?
Its been a crazy 15 years in the LA scene as a DJ.  I started buying records in the late 90s and bought my first pair of turntables in 1999. Techno was my main focus when buying records.  I am a fan of house and drum and bass as well but I gravitated towards techno at parties and soon connected with other techno heads.  That plus a limited resource of cash.  I couldn't afford to buy records from three different genres.
At what point did you run into the Droid Behavior crew? Can you describe how that came about?
I met Vidal and Vangelis of
Raíz
 in college.  Vidal and I became friends and would go to parties together and both of us would trade and share mix tapes that we would buy.  Through mutual friends we met
Drumcell
and from there it lead to
Dean Paul
and
Viktor Carillo
and we all transformed into Droid Behavior through the years.
 After successfully rocking dancefloors effectively as a DJ, you've been increasing your output as a producer as of late, do you feel like the pressure is there to have more DJs become producers these days? -Or has it become just a natural progression for you?
I feel that as the connection through the internet has grown it brought the world techno scene to a wider audience and that has created an environment where you can't just be a DJ to get noticed and play out if that is what you are after.  Tracks are easy to search for and buy online so every DJ has access from small towns to big cities.
For me it was more of a shift in focus.  I wanted to concentrate on producing and less on mixing.  I need to spend a lot of time searching for tracks, arranging them, practicing in the mix just to feel comfortable when I DJ in front of people.  That takes time away from production and at the moment I would rather spend more time producing and experimenting with sounds then searching for tracks.
We've gotten glimpse of your releases on VRV. What can we expect to hear from your music in the coming years? Where do you see yourself heading as an artist?
I expect my music to mature more.  I have been spending time in Raíz's studio and they have taught me a lot and I have still way more to learn.  I would like to gravitate towards a funky techno sound that is reminiscent of some of my favorite Black Nation records.  I try and search for a similar sound today but there is not much out there.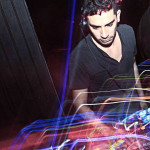 As a DJ what's your mindset when attempting to take control of the floor? Like, we've noticed that your selections are very dancible and infectious, yet retain that balance between hype and artistry. What goes through your mind when selecting tracks for a set?
I plan on being prepared with a certain sound ahead of time depending on the party. When playing out, if I don't know the artists I am playing along side with then I do some research to hear their sound so that I can take off from where they left off. I also like to take around 60 tracks with me that make up three different sets.  All this preparation gives me some level of comfort in the beginning but when you are at a party everything quickly changes.  I like to hear and see the crowd having a good time and that makes me have a great time and when I am having a great time then I throw my plans out the window and get in a groove.
Last question is something we usually ask.. In all your years in the underground and the electronic music scene, what's the craziest thing you've seen or heard of happening at a party?
Tough question since there have been tons of different crazy things!  A memorable one was one of the very first times I played out in the desert at El Mirage dry lake bed.  I believe it was Drumcell's party. While the music was bumping in the morning, some guys who came to the party in a 60's VW bug were racing around the dry lake bed when it started tumbling and it ended upside down. Nobody was hurt and everyone joined in to push it over back on its wheels.
 Proper shout out to Subversive and Droid/VRV Crew for the interview.. If you're in the Bay Area and would like to check out Subversive behind the decks, 
DEFSF
is hosting an upcoming event featuring Subversive co-headlining with Kafka from Vancouver: