Max Gardner is a DJ, producer and one of the lead promoters of the Direct to Earth (DTE) crew which burst onto the scene in 2011 throwing bangin' techno and tech house parties that quickly gained a cult following among the techno heads of the San Francisco and East Bay underground. In 2023 DTE has emerged as the leading techno crew in SF with Max Gardner at the center of it all. As a co owner of the Techno Label, Peer, Max is poised to bring the sound of West Coast Techno to the Masses.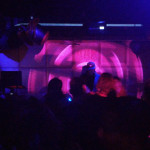 As a DJ, Max has a real physical sense for what's going on just beyond the decks and is careful to ensure that every track thrown down is more of a communication than a dictation to his audiences.  While, as a producer, Max has earned his credit as an artist and remixer for several labels such as Coal Recs, Dark and Sonorous, and Emote, pushing a sound that is a devastating combination of dark, funky, artful and jackin'.
Max Gardner can be found as local support for artists s/a Heiko Laux, Steve Rachmad, Marc Houle, and Carl Craig to just name a few.
---