Whoo. A real, no nonsense tekno party. The should be a party filled with exceptional talent, heady techno, and grooved up floor movers. Get ready to shake this party to the ground with DJs who are the masters of their craft.  See you there!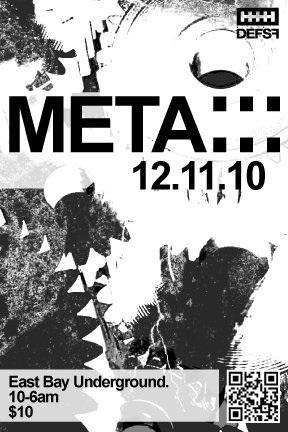 "Techno is best heard in a warehouse…ALWAYS." Adam Beyer
////////////////////////////////////////////////////////////////////////////////////
Coming Up December 11, 2010
META:::
12.11.10
vox:1.206.333.7399 (directions and map)
line up: (in order of appearance)
DIMA
Tekno Kitchen SF
JONAH SHARP
Reflective Records
RODRIGO QUINONEZ
Sonus, Re-Set
ANDY W
Nude Photo Music
RAF
Gold Code
Location TBA:::
Free fruit and water all night long.
10-6am
$10
Sound Reinforcement Provided By DEF-Audio
////////////////////////////////////////////////////////////////////////////////////
BIOs:::
Dima
One of the minds behind Tekno Kitchen. A series of one off events happening in the Heart of San Francisco, keeping the underground alive in San Francisco with techno; which if you talk to anyone who has tried, is really hard to do! Dima has been around the block as a techno DJ in SF for years. A deep wide ranging collection of tracks, from hard pumping stormers to intelligent dub techno round out his library. Look for Dima to be kicking off the night right.
Jonah Sharp
When you say the name Jonah Sharp most would automatically call up to mind his alias Spacetime Continuum which has already gained international acclaim in the 90s and oughts as an extraordinary ambient and IDM producer. But His roots as one of SF's original techno heros is a little less known. Recently, Jonah has been tearing it up in the clubs with techno and its about time for him to bang it out proper in a warehouse, wouldn't you agree?
Rodrigo Quinonez
Rodrigo has a penchant for the weird and abstract techno as well as clubbed up groovers to suit the cocktail sect, but his taste also delves into some serious underground techno which is tasteful, artistic and devastating. Be prepared to be blown away.. seriously, get ready. Totally excited for this.
AndyW
A DJ who's no stranger to techno. From the time when Andy's name was synonymous with techno in the bay area you could count on seeing his name up with the techno international elite at massives and punishing the hell out of your body with giant speakers and resulting columns of air. But Andy's true delight is fucking up your brain. He loves watching an audience squirm under his tracks. With Andy's 'golden ears' he knows what frequencies will do the job and do it right. Andy will be performing with a live PA of all new material that expresses his love for the sounds of detroit and the current bleeding edge of techno.
Raf
I love my digger DJs. It seems at times that only true love, knowledge, and devotion of EDM can be gained from the experience of having a few layers of dust caked on your fingers. Raf keeps himself busy running gold-code.net, a digger's site for fellow enthusiasts of acid house, 80's electro, disco, and italo. Raf's really excited about this set cause it gives him a chance to break out some acid tracks that will really react well with the reverb of the space. The old familiar rezzy 303 on vinyl banging off corrugated steel walls (sigh), I am drooling just thinking about it.