Lawrence Haas, Pteron is an SF based techno producer originally hailing from the UK,  He brings a decade of experience in his crate, ranging from hard-hitting techno to the darker shades of ambient. In most cases Pteron really let's all of his music do the talking. As such, DEFSF posed a quick interview with Pteron to break into the mind of the humble producer.
Some questions..
DEFSF: Where are you from originally?
PTERON: Born in the UK, 10 years since I moved to SF.
Why do you continue to choose SF as your home to be apart of the techno scene?
The strength and talent of the local scene, and how tightly knit the community is are the reasons why I stay a part of this scene.
Are you on any labels or broadcasts/podcasts?
I'm a part of an internet radio station called EMP radio, emp.cx is the website.
How would you describe your style of techno?
My techno is heavily influenced by UK bass genres (dubstep, drum n bass, etc). I try to keep it bass-driven and heavily syncopated.
Where do you think the SF techno scene is going and where would you like to see it go?
SF is slowly stepping up into the position of being a global hub for underground dance music. We face challenges due to lack of space and high expenses, but I hope linking the greater bay area scenes more closely with SF's can help tackle those challenges.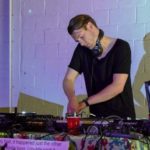 What are your greatest musical influences?
I've been listening to The Prodigy since as early as 3 years old. Specifically, their track "Firestarter" has been a literal lifelong favorite.
Do you have anything of your own music you're really excited about?
The "Acid Nothing" mix is what I'm trying to push right now. 100% my own productions, and it was recorded live on the Sutro FM radio show, which is hosted by two very close friends Kozy K (Avi) and Wmwood (Amber).
Catch Pteron rolling through the latenight 'lost & found' hours of the night around 4am onward until dawn at our next DEFSF event.
Tracks::
---